Encore Cats Aladdin of Ultimate Rags (Blue Mink & White Kitten)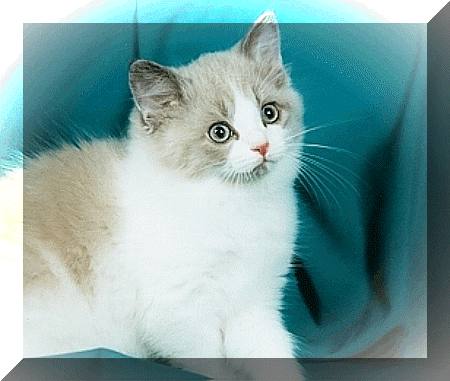 Aladdin is the newest member of our family. We are really looking forward to some beautiful
babies from him when he is old enough to breed. He is a true mink with the blue green eyes.
Aladdin is growing up beautifully, we are VERY proud of him. He is a UFO Gold Grand Champion after just 3 shows. He has started a wonderful show career. For more recent pictures of Aladdin click HERE
For a close up of the beautiful mink eyes click HERE (warning this is a large JPG file so you can see the eyes. It will take a while to load) Gif files distort the color a little like in the photo above so if you want to see the true color it is well worth the wait.

Send e-mail to info@ragamuffin.com with questions or comments about our RagaMuffins or this web site.
Last Modified: October 30, 2007