Ultimate Rags Picture Purrfect ( Blue Point & White Female )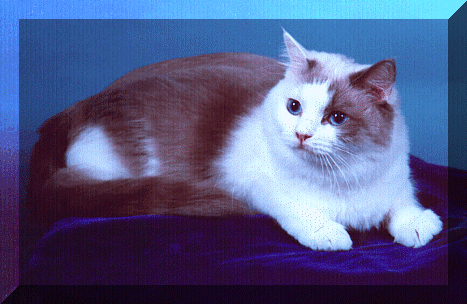 Also known as GiGi. She had a very rough beginning in life. Her mother could not feed her kittens and they had to be weaned at 5 weeks old. All the other kittens used GiGi as their pacifier and would nurse on her neck and chest. She always looked dirty with her hair all crusty from them nursing on her so she got the nickname Grungetta. As they got older and stopped nursing on her we saw how beautiful she really was. Of course Grungetta no longer fit so it was shortened to GiGi. That is when she got her registered name Picture Purrfect. She was 10th best kitten internationally with UFO in the 95-96 show season. That is a great accomplishment for a female, especially since she only attended 2 shows as a kitten. The standard is written for a male making it pretty hard for the girls to compete against the boys.
It is with a sad heart that I announce GiGi's passing away after an emergency c-section. We lost all but 1 kitten who has been named Ultimate Rags Grand Finale (Allie for short)
Below are 2 other pictures of GiGi in her favorite positions. She is pregnant in the picture and has her belly shaved ready for her delivery (she had 5 kittens). She is usually found belly up leaning against the wall or laying on the floor nursing every kitten in the house (even if it is nor her kitten). The bottom picture of the pile of kittens is actually GiGi at the bottom (you can not see any of her) with 9 kittens trying to sqeeze in and nurse.