Your place for the Ultimate cat
Our Goal
is to breed quality RagaMuffin cats with great Purrsonalities

Our cats are fed Life's Abundance Holistic Cat Food. For Info visit http://www.healthypetnet.com/ultimatepetcare/
For a link to some neat cat toys and supplies click here http://www.katsnstuff.com/

Ultimate Rags is proud to be a founding RagaMuffin breeder and a member of RagaMuffin Associated Group (RAG). RAG is the original RagaMuffin breed club. It was Chartered by ACFA in 1994. The purpose of RAG is to preserve the RagaMufin's wonderful disposition and characteristics found so desirable in the founding cats of the breed.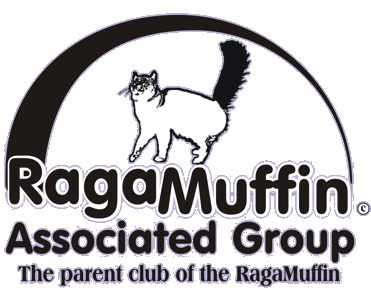 Our RagaMuffins are bred for Health, their Wonderful Disposition, and low Maintenance Coat. RagaMuffin Cats are one of the largest domestic breeds and can top 20 lbs.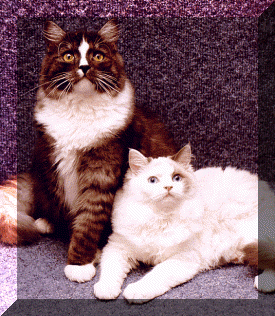 Ultimate Rags Tailor Made Black Smoke & White male
Ultimate Rags Picture Purrfect Blue Point & white Female

Ultimate Rags is one of the founding breeders of RagaMuffin cats. We have been breeding RagaMuffins since the Early 90's. I started breeding before we approached the registries to recognize the RagaMuffin as a breed. Although I only show at local shows and do not travel the nation like other to earn the needed points for national titles, Ultimate Rags Nikki was still the Inter-American Best RagaMuffin for the 2004-2005 show season. A feat I am very proud of and one that I never expected! We have had many others through-out the years.
Location Southeast Florida
For info please e-mail info@ragamuffin.com

Since the RagaMuffins recent growth in popularity, many people are trying to jump on the band wagon and are selling kittens they call RagaMuffins. These kittens are usually Ragdoll crosses and are not RagaMuffins. Unfortunately one registry is registering these kittens as RagaMuffins. The only way to get a RagaMuffin from a Ragdoll parent is if the other parent is a RagaMuffin! To be sure you are purchasing an authentic RagaMuffin be sure you will receive ACFA (American Cat Fanciers Association) registration papers.

You are visitor number:
Since June 18, 2003
Thank you for visiting our site.
Send mail to info@ragamuffin.com with questions or comments about our RagaMuffins or this web site.
Last modified: April 07, 2011